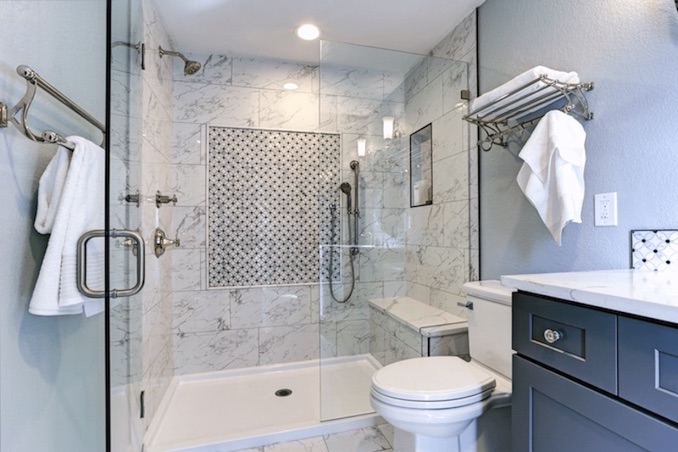 Whether you want to renovate your bathroom with new flooring and walls or just update the vanity, you can make mistakes during the process that can create hurdles. Thankfully, you can avoid a lot of these mistakes when you invest in Rénovation Renovco bathroom remodelling services.
Renovating the bathroom is an excellent way to increase the value of your house. But as it is an expensive project, you must do it right. The following are mistakes you must avoid when renovating your bathroom:
Low Ventilation
A lot of homeowners overlook the bathroom fan. An exhaust fan is an essential feature because the bathroom requires proper ventilation. Without proper ventilation, humidity in the space can get trapped and damage the room. 
An exhaust is especially necessary in a bathroom that does not have windows. It helps avoid mould and mildew buildup in the moist area. If your renovation budget is limited, invest in an exhaust fan that has a timer switch. Set the timer to fifteen minutes after you leave the room, reducing the condensation. 
Improper Layout
The bathroom renovation process relies on the bathroom's layout. Thus, you should plan out this project properly to avoid clutter and ensure proper spacing. You cannot just focus on bathroom aesthetics alone. 
When renovating the bathroom, comfort always comes before luxury. Thus, you need to think of the layout and spacing. All the furnishings and fixtures must be spared in a way that they can be easily and comfortably used every day. 
You must properly plan the layout, so you do not bump into another element in the bathroom while you use one. You don't want to place a toilet next to the bathtub head. Thus, ensure you have planned out what element goes where before you start the renovation.
Dull Lighting
Adequate lighting is an important feature of a great bathroom renovation. Correct lighting can make the room functional and soothing. Also, it offers the right aura and vibe. For shower space, invest in pot lights as they brighten up this space without interfering with other elements. A combination of task lighting, general lighting, and mood lighting will make your new bathroom a sophisticated space.
To make the bathroom look luxurious, choose a wall sconce or chandelier. Regardless of your choice, make sure the space is bright and well-lit. This ensures the safety of those who use the room and makes the space soothing. 
About Author