Landscape makeovers can be exciting but confusing at the same time. With so many categories and options to consider, it is not uncommon for individuals to find the entire idea baffling to begin with. However, there is nothing a professional outdoor living space designer cannot help you with. From constructing structures like swimming pools, plant walls, and pavements to picking the right plants and flowers, everything counts when transforming your garden.
A beautiful garden oasis right out of a magazine might seem simple but requires a fair amount of planning and advice to accomplish. The predominant weather in your area, services offered by professionals to maintain your garden, your lifestyle, and family priorities all play a major role in deciding what kind of landscape renovation materials to use. For instance, if you have little kids and pets at home, you would not place garden art and detachable structures that can easily be knocked over.
This blog will discuss several ideas you can mix and match to achieve your perfect garden look. We suggest you get a paper and pencil to start taking notes before you get a professional involved. While professional advice is a priority, it is also useful to know your preferences for a much clearer understanding of your needs and preferences. Let's get started!
Landscaping Themes to Consider
Giving your outdoor living space a makeover is always a good idea, especially if it involves creative landscaping ideas. If you want to enhance your backyard or garden this year, the following ideas will interest you.
1.    Hardscapes
Hardscaping your yard includes installing structures such as benches, patios, gazebos, paved pathways, decks, water features, pavilions, and any other edifices your lifestyle, preference, and landscape requires. Hardscapes are often for individuals looking to give their yard or garden a substantial upgrade instead of a minimalistic re-touch or revamping.
There are many different materials you can experiment with. Let's look at a few popular hardscape options for your yard.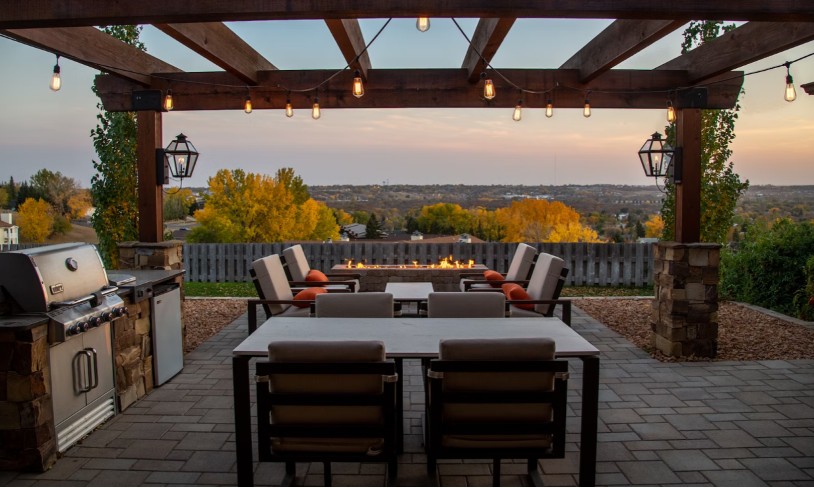 Water features can vary from a small, pond-like body in your garden to a sizeable swimming pool in your yard. Adding such a facility can add tranquility and peace to your outer space and provide an avenue to relax on the property without traveling too far.
Fountains also add a tropical look to your garden, allowing you to experiment with a thematic appearance. If you are someone looking to redo your yard completely, selecting a theme might be of monumental help before executing your plan.
Experiment with pavers and pathways
Creating a pathway or laying down pavers in a creative manner can truly enhance your backyard's look. Stone and concrete have a natural appeal that never fails to impress.
You can also have a pathway that perhaps leads to a patio or deck at the end of the yard. Enjoy a warm welcome into your yard or garden as you walk down your paved trail.
Delicate fencing adds a unique, chic look to your backyard. If you are looking to perk up your lawn or garden, try bright tones for your fence, such as pastel blue or even powder pink. However, a bright white fence will tie down a garden with bright, beautiful flowers and other colorful structures.
Perhaps you can add a fence at the end of your pavers that leads to a gazebo. Fencing also adds a vintage yet classy look for a true landscape renovation experience. Getting in touch with an expert landscape architect can help you plan your garden renovation project.
Arbors offer an attractive look to your garden by introducing a focal point. Arbors provide structure to your space, helping vines grow around it for a more beautiful and elegant touch to your outdoor living space.
You can also extend your Arbor to provide a shelter for a deck or other such sitting area surrounded by softscapes and other garden features such as shrubs and trees.
2.    Softscapes
Softscapes deal with botanical features such as natural plants and flowering elements that go in your garden or yard. Some options, such as grass, trees, and shrubs, are permanent, while other options, such as seasonal flowers and flowering beds, are temporary. As the name suggests, softscapes provide a soft, welcoming feel to your outdoor space.
An expert landscape designer might be able to guide you accurately about the types of softscapes to best suit your yard or garden. Just as with hardscapes, softscapes offer variety and substance to your space. The ideas listed below are meant to help you decide.
Native plants are your best choice
If you want a great-looking yard requiring minimum maintenance and care intervention, give native plants a go. Your plant selection greatly influences the look, feel, effort, time, and money to keep your garden looking immaculate. Local plants and flowers are resilient, tough, and low-maintenance because of their exposure to the local environment. They also provide a great opportunity for birds and bees to pollinate and naturally increase the number and quality of plants and flowers in your space.
Naturally, you would not want one feature to have an overbearing effect on your entire garden. Choose between materials and softscaping that allow variety in color, size, and shapes for a more balanced look. The right shrub dimensions will maintain uniformity and neatness in your garden.
You can also consider colorful shrubs to break the monotony in vegetative coloring and add diversity to your garden. Bushes and shrubs have different lifecycles throughout the year you can choose from.
What Are You Waiting For?
Now that you have taken down valuable notes and directions, it is time to execute the plan. Getting in touch with an expert now will help you narrow down the options and landscaping ideas you require for your outdoor living space.
Perfect Pools is based in Sterling, Virginia, and provides top-notch services and products to customers in the area. Their wide range of services includes pool designers and contractors, expert living space and landscape designers, and expert landscape architects with years of experience in the industry. You can simply contact us or book a consultation before you opt for any services.
About Author