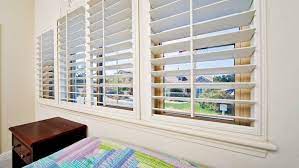 Shutters have been in use right from ancient Greek times but with the passage of time and evolution taking place in technology, traditional shutters have been replaced by plantation Shutters.
As of now, plantation shutters are used to add grace and enhance the curb appeal of your home and by virtue of their style and practicality, plantation shutters have never gone out of style.
What are plantation shutters and their advantages?
Plantation shutters are almost an inseparable component of windows in every house in Australia as they not only provide you privacy but also offer you complete control over sunlight beaming through windows into your home.
Having installed plantation shutters on the windows of your home, you get the desired amount of natural light coming into your home besides offering you adequate insulation.
Plantation shutters help retain inside heat and thereby maintain adequate warmth during winters and retain cooling in summers in homes. Plantation shutters can also allow you to enjoy a gentle cool breeze in summer.
In addition, plantation shutters offer windows, the necessary protection from heat, dust, light, and weather elements besides blocking the entry of flying insects and warding off security threats.
Plantation shutters are considered an integral part of every building and are one of the most energy-efficient window coverings for your home, they can help reduce your energy bills.
Being highly stylish and attractive, both indoor and outdoor plantation shutters can add a touch of class, elegance, and sophistication to the exterior and interior of your home which can easily enhance the real estate value of your home.
In order to improve interior décor, often people install plantation shutters matching their furniture style, furnishings, other accessories, and/or inside paint color.
The best part of plantation shutters installation is that today, you have much wider choices than ever in terms of their materials, colors as well as styles, and availability in customized sizes and shapes.
The material used for making plantation shutters
Nowadays, these timeless, easily affordable and custom plantation shutters are generally available as:
Timber Plantation Shutters
Aluminum Plantation Shutters
PVC plantation Shutters
Each material, used for making plantation shutters, has its own characteristic features, natural tone as well as beauty and durability levels.
Today, you have a wide variety of colors, sizes, and shapes to choose from for the installation of plantation shutters in your home, offices, or commercial palaces.
Plantation Shutter Louver Sizes Shapes Colors
Mostly, indoor and outdoor plantation shutters in Melbourne are available in three different sizes i.e. 64mm, 89mm, and 114mm.  Since the shapes and sizes of windows can be different, the plantation shutters are made in a variety of customized sizes and shapes.
When it comes to different shapes, plantation shutter can be easily designed in various shapes such as:
Rectangular or Square
Triangular
Circular
Arched
French door cut out
Although these are available in innumerable custom-made and stained colors yet a vast majority of people prefer white or different shades of white-colored plantation shutters matching their home style to help increase comfort levels, and grace and boost the aesthetics of their homes.
Should you require to install high-quality, elegant, and most durable Timber, Aluminum, or PVC plantation shutters as ideal window coverings; contact Fantastic Blinds & Shutters – the most experienced and renowned plantation shutter manufacturer in Melbourne.