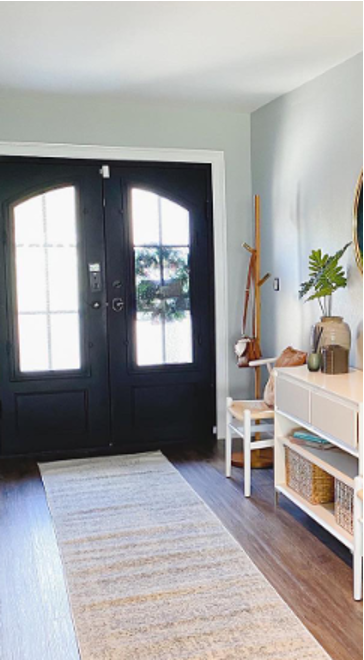 Just like when you first meet a person and feel a certain way, homes also evoke emotions. The first time you see a home's front façade, it says a lot about what to expect on the inside. Therefore, having a front iron door or steel door that resonates with your home's vibe is of utmost importance.
But finding the perfect entry door in Arkansas can be challenging. Especially if you're surrounded by too many affordable, cookie-cutter options that may seem tempting for the price point. The truth, however, is that buying an entry door is an important decision and one that cannot be made in a hasty manner.
So to get your entry door hunt started and help you find the front door in Arkansas that elevates your home's curb appeal and value, here's a guide. Take a look to know what are the things you need to consider when getting a new front door.
The Material
Material is hands down the most crucial point when selecting an entry door. There's a wide range of entry door materials to choose from, but steel doors and iron doors always come out on top. The reasons for the popularity of steel entry doors and iron entry doors include:
Highly customizable –best fit for every home's style and architecture
Unique and versatile – customized steel doors and iron doors are forged individually, and thus each piece is unique in its existence
Timeless – unlike other entry door materials, steel doors and wrought iron doors are always in fashion
Aesthetically Appealing – you may cut corners and make a customized entry door in any material, but the feel and visual appeal of an iron door or steel door is unmatched!
Budget
The next point to take into account is the budget. Now you may be tempted to save costs by getting cookie-cutter entry doors in cheap materials. But the truth is that those doors will neither complement your home's style nor add any value.
If you want to get your money's worth, choose customized iron doors and steel doors in Arkansas, keeping your home's individualistic needs in mind. Moreover, by spending a little more on iron front doors and steel entry doors, you'll also get more return on the investment.
Size
Next up is size. Be thorough when measuring your entry door's size to ensure that the customized iron door or steel door perfectly fits in the opening. Further, knowing the size will also help you choose the right steel door or iron entry door style.
Style
And, of course, finding an iron entry door or steel entry door that's well-blended with your home's feel is obviously important. There are numerous iron doors and steel door styles to choose from, and luckily each one is more appealing than the other.
Take a look at some of the best options for iron entry doors and steel entry doors in Arkansas homes.
FrenchIron Doors or Steel Doors
French doors are classic, timeless, and the epitome of perfection! Arched, flat, single, double, decorative, or sleek. There are so many versatile choices when it comes to French iron doors or French steel doors in Arkansas. You can customize French iron doors and steel doors to perfectly match your home's architectural design.
DutchIron Doors
If you want to go a rural route and make the most of the Arkansas vibes, opt for Dutch iron doors. Dutch iron doors as entry doors have been a 17th-century trend that's becoming popular in the U.S. once again. These iron entry doors will make your small-sized entrance look rustic and say a lot about your home's cozy feel.
PivotSteel Doors
Is your home a true reflection of the modern architectural elements and chic vibes? Are you keen to bring the natural light in and do something bold on your front door? Try pivot-style steel entry doors. With sleek steel frames and large glass inserts, pivot steel doors will add a touch of elegance to your Arkansas home. However, you need to have a lot of space to enjoy a pivot steel door in Arkansas.
Customize Your Way to the Perfection!
Your iron or steel entry door will perfectly blend with your home's feel and architectural design. At the same time, your iron entry door and steel entry door that is made-to-order for your home will stand out as the most novel, elegant, and sophisticated entry door in Arkansas!
If you are looking to get the most aesthetic iron entry doors and steel entry doors in Arkansas, check out Pinky's Iron Doors. You can get in touch with them to craft customized iron doors and steel doors that best fit your home's aesthetics.
Author Bio
The author is a true Arkansan at heart who loves natural views, hot springs, and sophisticated home design elements. Currently working as a freelance interior designer, the author has worked with leading design agencies in the past.
About Author