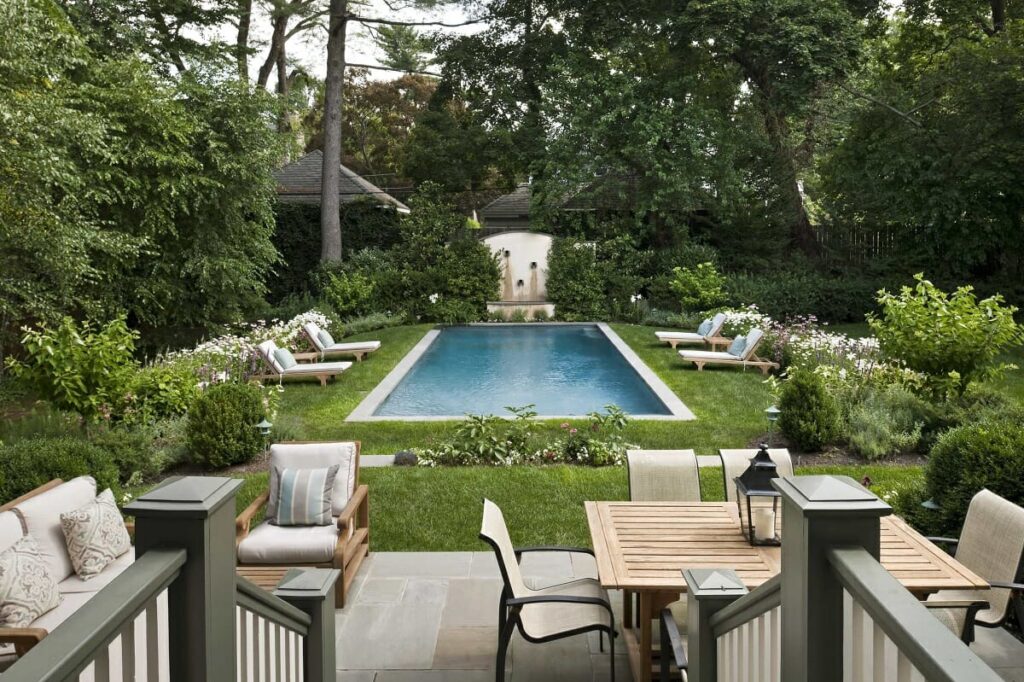 A swimming pool is a great addition to the backyard of every home. It adds charm to the house and provides a great place for the family to unwind and have fun together. But simply installing a pool is not enough if you want your barbecues, summer parties, and poolside festivities to be a smashing hit. You should create a welcoming environment in your backyard and convert it into a backyard oasis by combining outdoor furniture, decor, landscaping, and numerous other components.
There are several ways in which you can convert your poolside into your family's favourite spot, not just in summer, but year-round. Some of them include:
Mirror the poolside decor with your pool
The first step of poolside decoration involves considering the elements you have in your backyard. You already possess a wonderful and relaxing water feature in the backyard by having a swimming pool made by Pool Builders Melbourne. All that is left to accomplish is to draw attention to its attractive features. Curved furniture can reflect the serene ripples of water, and a colour scheme influenced by nature, such as deep sea green, white, or teal, can highlight the hue of the water. Consider including the pool floor in your design and decoration project. You can go for light, dark, or even bohemian options. Whatever you decide, make sure to take advantage of the design's ability to alter your perception of the colour of the water.
Create shady areas
Even those who love the sun will appreciate some cover during the sweltering summer heat. By adding some shade, you can make your poolside more enjoyable for your family and friends on hot, sunny days. Patio umbrellas, retractable awnings, large trees, and even arbours and pergolas covered in vines are good options for providing shade. Choose the one that best fits your needs in terms of budget and space.
Identify poolside spaces with structures
Your poolside sanctuary will become even more luxurious with a gazebo. You can position the gazebo near the pool or attach it to the deck. Either way, it will serve as an excellent location for relaxing, cooking, and dining. In your pool area, you can also establish activity zones with the help of pergolas, arbours, and trellises. Use these features to establish focal points, divide spaces into functional sections, or construct passageways from one location to another.
Add a kitchen
If you enjoy cooking and dining outdoors, think about installing a poolside kitchen. You need not spend a lot of money and invest in a grill to have a perfect little kitchen. A sufficiently large countertop with a few amenities like separate side burners and closed storage is enough to cook a meal for your family in the backyard for holidays. Include a refrigerator to preserve meals on warm days and a sink for convenient cleanup.
Add a dining area
Having a dining area by the poolside is a useful luxury. Poolside dining gives you the opportunity to feed and entertain your friends and family while holding a party outdoors in the beautiful sunshine. During pool parties, this will also ensure that your guests will not bring water into the house when they look for refreshments.
Make areas for lounging
A space to unwind is essential in the pool area, even if you have dining or seating areas. You can hang a hammock to create a cosy place to take an afternoon nap. Investing in a chaise lounge is a good idea to create a perfect spot for reading a book or sunbathing. To increase comfort, use lots of cushions and pillows. All these will transform your poolside into a tranquil oasis perfect for spending a slow afternoon.
Include a fire element
Having a fire element in your poolside will help you warm up during chilly nights and promote a relaxed atmosphere. It is appropriate for both hosting guests and spending time alone. The most common fire features that you can add to your poolside include fire tables, columns, bowls, pits, and chimeneas. You can select a model that best meets your needs, whether it be a conventional wood-burning, electric, or gas-powered model. The fire's cosy warmth also creates gentle lighting. When it is near the pool, it creates a beautiful, welcoming glow.
Ensure privacy
Your poolside will feel more like a tranquil oasis when there is privacy. You can use fences or garden walls to ensure the privacy of your swimming pool. Pergolas, lattices, and other landscaping elements can be used to delineate your poolside and block views of nearby houses. If you have a poolside sitting area and want a quick and affordable privacy screen, you can opt for outdoor curtains. This will give an aesthetic feel along with providing privacy.
Proper lighting
Proper outdoor lighting is necessary if you want to use your poolside after sunset. Along with underwater pool lights, you should also light up your pathways to facilitate movement during the nighttime. Use café lights and string lights to create a cosy atmosphere. You can also invest in coloured lights to give an added charm during night parties.
Furnish for durability and comfort
When researching furnishings for your poolside, try to opt for materials that provide comfort and are durable. Classic materials for poolside furniture include wood, cast or wrought iron and aluminium. Nowadays, there are weatherproof, synthetic outdoor furnishings and materials available offering similar designs and convenience as interior decor. You can also use weather-resistant table lamps and floor lamps to get both durability and beautiful lighting.
Invest in a dog pool
Everyone feels hot and dehydrated during the sweltering summer months, including your pets. By investing in a dog pool, you can include them in the poolside fun. This will allow the dogs to lie down in cool water during the hot day. This will also be beneficial if you have puppies who are not big enough to swim in the pool.
In Conclusion
Your swimming pool and the surrounding area are a great place to enjoy with your family and friends. By choosing the right furnishings and decorations, you can transform your poolside into a perfect backyard oasis.
About Author