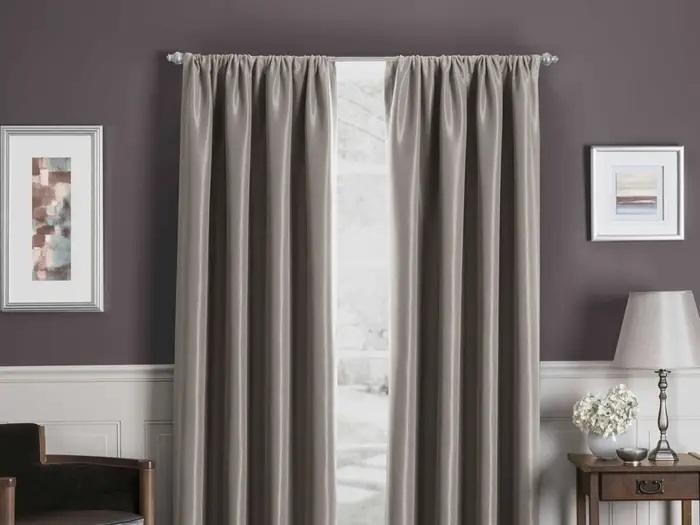 If you are thinking of installing blackout curtains in your home for light blocking and insulation features, you may need to consider few factors before finalizing your decision. Selecting the right blackout curtains depends upon so many factors such as style, fabric, colour, cost, and maintenance. In this guide, we'll let you know the basic factors you need to consider before buying these curtains.
Factors To Consider Before Purchasing Blackout Curtains
Fabric Quality
One of the biggest factors taken into consideration before buying these curtains is the fabric should be heavy and solid. Thin, lighter, or semi-transparent fabric doesn't block out the entire light penetrating through your windows. Microfiber or polyester fabrics are considered good for blackout curtains but you can go with other choices as well including cotton and others. In general, we can say that the thicker the fabric, the strong is the light protection.
Color
Another main factor you should need to consider is colour. It is very important to choose the right colour curtains that suit your home interior the best. Even though blackout curtains usually come in dark colours such as graphite, navy blue, grey, and black, you can also find them in multiple patterns and extra bright colours. White blackout curtains are also available in the market but with a blackout lining. So, if you like light colours, you can definitely go for it but a lining is a must otherwise it cannot offer you 100% light blocking protection.
Cleaning and Maintenance
Blackout curtains required a lot of maintenance because of their detailed manufacturing process where their opaqueness and thickness are enhanced by adding foam layers to raw materials. Not all curtains are equal. Each fabric requires a different maintenance method. For example, polyester and cotton mixes require a simple hand wash in cold water whereas, for thicker and denser linings, you may need to spray or dry clean your curtains. Always make sure to follow the cleaning methods as per instructions provided by the manufacturer.
Installation   
Blackout curtains are not difficult to install as other curtains. It is recommended to install these curtains in the rooms where possible sunlight exposure is possible. The best locations are bedroom and living room. If you are tired and want a peaceful nap, these curtains will help you relax or sleep, while creating a comfortable and soothing daytime ambience.
Cost
It is something that depends upon your budget. The cost of blackout curtains ranges between $30 and $100 everywhere for a pair of full door curtains. You can also go with low prices if your pocket is tight but the fabric quality and durability are not that good. Make sure to purchase from reputable sellers because the cheap local factories do not offer good quality material.
Now that you know what things you need to consider while buying blackout curtains, you can have a better idea to choose the perfect one for your home. Always buy these curtains from a reputable company to get high-quality curtains.
About Author